Here are the oldest originals that I have in my personal collection. These have obviously been handed down from generation to generation since the 1800's.
This is a proof of citizenship.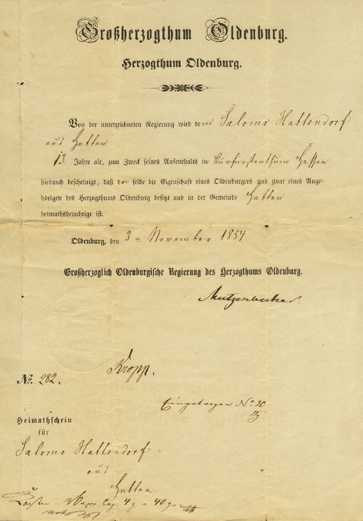 Grandduchy of Oldenburg
Duchy Oldenburg
The Government certifies, that, Salomo Hattendorf, of Hatten, age 13 is a citizen of Oldenburg and a Member of the Duchy Oldenburg, Community Hatten. He is allowed to stay in the principality of Hessia.
Oldenburg, 3 November 1854
Infant Tampa Bay Buccaneers Lavonte David Nike Red Team Color Game Jersey,Men's San Diego Chargers Pro Line Black Taylor Stretch Fit Hat,Mens Oakland Raiders Pro Line Black Soft Shell Big & Tall Jacket
San Francisco 49Ers Jerseys Colors
.Youth Denver Broncos Terrell Davis Nike Orange Retired Game Jersey,Mens Pittsburgh Steelers Nike Black Training Day T-Shirt
http://www.big49erssanfrancisco.com
.Pro Line Detroit Lions Women's Tundra Forager Full-Zip Hooded Jacket,Youth New Orleans Saints New Era Black/Gold On Field Sport Cuffed Knit Hat,cheap nfl earrings january,cheap nfl earrings 3-in-1,cheap nfl helmets gumball.Women's Minnesota Vikings Love Glitter Slide Slippers,Infant Denver Broncos 2-Pack This is Football Long Sleeve Bodysuit Set,nfl cheap 8th,cheap nfl gear toronto
San Francisco 49ers Jerseys Outlet
.Women's New York Jets Junk Food Cream All American Raglan Three-Quarter Length Sleeve T-Shirt,Men's Carolina Panthers Pro Line Black Westview Pullover Hoodie,Infant Green Bay Packers Gray Stacked Fan Bodysuit
San Francisco 49Ers Jerseys
.cheap nfl hats 1800's,cheap nfl jersey sell discount codes,cheap nfl charms jamaican,Indianapolis Colts Bottom Only Mega License Plate Frame
San Francisco 49Ers Uniforms Jerseys
.Women's Denver Broncos Nike Navy Blue Talent Agent Tri-Blend T-Shirt,New England Patriots Bling Lanyard - Silver.Youth Tennessee Titans Navy Evasive Quarter-Zip Jacket,'47 Brand New York Giants JV Scrum Spring T-Shirt - Royal Blue,Denver Broncos Youth Primary Logo Fleece Hoodie Sweatshirt - Ash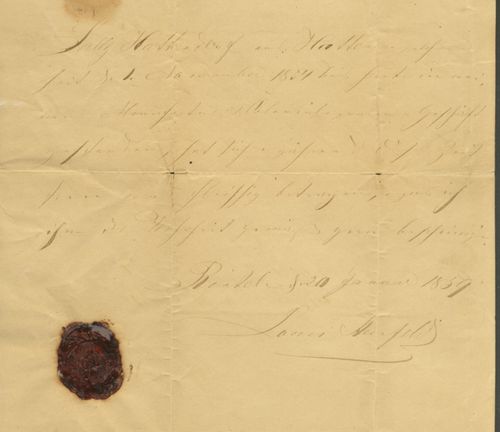 This is a faded letter of recommendation. The blackish red spot is the original seal of the author.
It states:
Sally Hattendorf of Hatten has been with me since November 1, 1851 in my Manufacture and Miscellaneous Store. He was honest, industrious, with good manners, so that I gladly vouch for him.
Rinteln, January 1859
Steinfield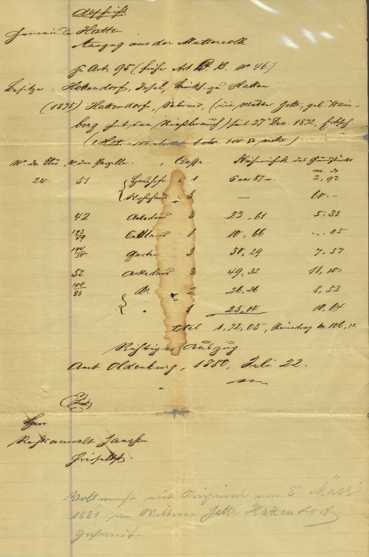 Extract from the Register of Community Hatten
Article 95 (formerly B.46)
Owner: Hattendorf, Jesel of Hatten
(1875) Hattendorf, Salomo (the mother Gette nee Weinberg has the use (of the properties) since Dec 1872, from her inheritance.)
The document then lists the house, garden, land, and acreage owned by the family.
True Extract
Oldenburg 1880 July 22
Power of Attorney with original sent to widow Gette Hattendorf, March 8, 1881

This is page one of the Power of Attorney. Salomo (Charles) made his younger brother Ferdinand guardian for their father's inheritance. Charles was living in Memphis at the time this was written.